What is Iyengar Yoga?
The hallmarks of BKS Iyengar's teaching and practice: attention to detail and precision in action, intelligence of sequencing and the artful use of props.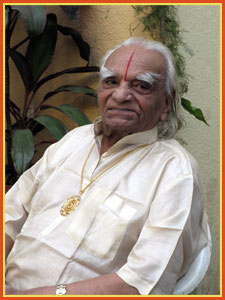 B.K.S. Iyengar was born in 1918 and was sent to Pune, India at age eighteen to spread the teachings of yoga. A fortuitous meeting with the violin maestro Yehudi Menuhin in 1952 was instrumental in introducing the Western World to Iyengar and his teachings. Today it is estimated there are more than ten million Iyengar practitioners with more than 534 Iyengar Studios in 63 different countries throughout the world.
Yogacharya B.K.S. Iyengar passed away at age 95 in 2014. Ghetta Iyengar passed away at age 74 December 16th 2018. Mr. Iyengar's son Sri Prashant S. Iyengar is the director of the Ramamani Iyengar Memorial Yoga Institute located in Pune, Maharashtra, India.
Photo by Leslie Hogya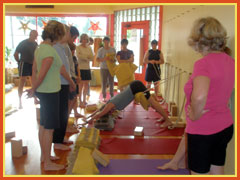 Iyengar yoga is meant for everyone and is a way of life which may be practiced by all. The use of props, designed by B.K.S. Iyengar, such as wooden supports, belts, blankets, blocks, chairs, walls, and ropes helps the beginning practitioner to do the poses or asanas safely and more deeply than would be possible without the assist.
A large emphasis is given to precise direction and correct alignment in the asanas. This precision builds strength, stamina, balance, and a new sense of well-being. The science of sequencing and timing are unique to Iyengar Yoga in which different groups of asanas are taught by very well trained certified teachers.
What are the Benefits of Yoga?
Why Practice Yoga

?

A dedicated yoga practice will slowly bring major changes into one's life offering a deep sense of inner peace and a calm mind with the ability to focus clearly, to see life and it's situations as they truly are. Passion, enthusiasm, and self confidence will be found in all that you do. Stability and balance in mood will create utter joy and happiness in life. Physical and mental illness can be eliminated.

The following list of benefits was taken from Dr. Timothy McCall's book Yoga as Medicine: The Yogic Prescription for Health and Healing
Increases Flexibility
Strengthens Muscles
Improves Balance
Improves Immune Function
Improves Posture
Improves Lung Function
Leads to Slower and Deeper Breathing
Discourages Mouth Breathing
Increases Oxygenation of Tissues
Improves Joint Health
Nourishes Intervertebral Disks
Improves Return of Venous Blood
Increases Circulation of Lymph
Improves Function of the Feet
Increases Control of Bodily Functions
Strengthens Bones
Conditions the Cardiovascular System
Promotes Weight Loss
Relaxes the Nervous System
Improves the Function of the Nervous System
Improves Brain Function
Lowers Levels of the Stress Hormone Cortisol
Lowers Blood Sugar
Lowers Blood Pressure
Improves Levels of Cholesterol and Triglycerides
Improves Bowel Function
Releases Unconscious Muscular Gripping
Uses Imagery to Effect Change in the Body
Relieves Pain
Lowers Need for Medication
Fosters Healing Relationships
Improves Psychological Health
Leads to Healthier Habits
Fosters Spiritual Growth
Encourages Involvement in Your Own Healing